Super Therm ® - Thermal insulating ceramic coating
The isolation of the 21st century!
Super Therm ® coating is a unique water-based thermally insulating coating consisting of high aliphatic urethanes, elastomeric acrylates and resin additives.
Super Therm ® coating contains 4 different ceramic elements that 95% of heat radiation (visible light, IR and UV-rays) to reflect the sun. Two are reflective, acting like a third and fourth vacuum stop IR radiation.
Moreover emiteert Super Therm ® coating 92% of its surface because of the extreme heat this unique combination of low density ceramic particles.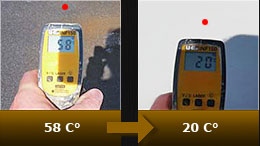 This makes Super Therm ® coating a full insulating coating and not just a reflective coating unlike other paints that only 1 single ceramic element. Super Therm ® coating in 14 to 21 days to complete from an extremely strong, durable, non-yellowing, flexible, waterproof, UV and weather resistant coating.
Super Therm ® coating is also a permanent flexible, but breathable membrane that helps to prevent condensation and thus corrosion. The slightly grained surface after application will be.
Is mainly applied as insulation system:
on roofs and walls, along both the interior and exterior
in refrigerated containers, trailers, mobile homes and buses
to prevent condensation and corrosion in air conditioning systems, pipelines, tanks, ships, etc.
to prevent overheating in livestock, grain silos, etc ...
Rust Grip ® on metal roofs on
Color: White
Solids: 63.6% weight / volume 68%
Water- : there are no solvents present and co-curing is done by evaporation
Density: 1.424 kg / l (11.88 lbs / gal)
VOC (Volatile Organic Compounds): 21 gr / l pH: 8,5-9,0
Viscosity: 105-110 KU Uitrekvermogen: 125%
Noise reducing properties: STC 48 to 51
Lead and chromate Fri
Plastic buckets of 5 U.S. gallon (18.925 liters)
Shelf life: 3 years when frost in original sealed container at a temperature between 5 ° C and 35 ° C.